Welcome to our charming accommodations at Frafjord Spa. Here is some information about our apartments and images.
• All apartments overlook the Frafjord River.
• No animals allowed
• There is cooking equipment & kitchen facilities in all apartments.
• The nearest shop is about 4.5 kilometers away.
• The nearest restaurant is about 9 kilometers away (7-10mins by car).
• Just a short distance to the fjord and water activities. Playground for children within short walking distance.
• Great scenery and hiking areas.
• Good fishing.
Check-in: 15:00
Check-out: 11:00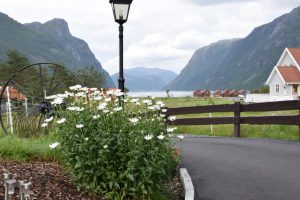 MÅNAFOSSEN APARTMENT
Max: 6 people.
Number of bedrooms: 1 + sofa bed in the living room
Kitchen and utensils
Refrigerator / freezer
Dishwasher
Microwave oven
Internet
TV (Norwegian and German channels)
Shower
Bedding and towels is included.

Washout of apartment included.

2990 kr per day
5500kr for 3 days
12000kr for 7 days
No animals
FRAFJORD HATTEN APARTMENT
Max: 2 people.
Double bed (can be split into two singles)
Small cooking stove
Refrigerator
Microwave oven
Internet
TV (Norwegian and German channels)
Bath
Bedding and towels is included.

Washout of apartment included.

1495kr per day for 2 people
4000kr for 3 days
8900kr for 7 days
No animals
GRÅTTÅ APARTMENT
Max: 2 people.
Double Bed
Couch
Small cooking stove
Microwave oven
Coffee maker
Refrigerator
Internet
Shower
Bedding and towels is included.

Washout of apartment included.

1295kr per day for 2 people
3500kr for 3 days
4400kr 2 persons and 1 child for 3 days.
No animals